Raising the Next Generation of Farm Leaders: Dorothy's Story
Dorothy's father died before she and her twin brother were born.
This left her mother—just two months pregnant—as the family's sole provider. Tasked with the responsibility of raising her eight children in Zambia, Dorothy's mother couldn't get a job. And without a job, she couldn't afford to send her children to school.
In Dorothy's words—
"Life was so hard. Sometimes we would go to sleep without eating anything. And also we were not going to school because we could not manage to pay for the school fees. I could see the pain that my mom was going through."
But God had something good in store for Dorothy and her family. Take a look—
Dorothy and her family lived in The Compound.
Most people living here don't have running water or electricity, and they struggle to find or maintain stable work. Addictions and violence are common. It's not a safe place to grow up.
When Dorothy was seven, her aunt brought her to Lifesong to begin school.
Since 2011, Lifesong School has met the needs of students in the community, most of whom are single or double orphans. With your support, we offer education to children in need who would otherwise be unable to attend. As part of this education, we provide 2 meals per day, medical care, and discipleship.
And we do it at no cost to the student or family.
Like so many of our students, it was here that Dorothy's life began to blossom.
"When I came to Lifesong School, that's when I learned more and more about Jesus … and received Christ as my personal Savior."
Dorothy's future is coming into focus.
Empowered by the Gospel and a quality, tuition-free education, Dorothy graduated from Lifesong School in 2019.
Today, she's reaching kids whose childhood looks much like hers. Specifically, she leads an outreach program in The Compound called Kids Life, sharing the Gospel and building relationships with children in need.
Just like Lifesong poured their heart in my life, I also want to pour it into other people.
After praying that God would bring her friends who shared the same passion for reaching kids in The Compound, God brought Paul and Costace to help. And together, this team is doing good work.
She also decided to start working at Lifesong Farms where her mom is also employed.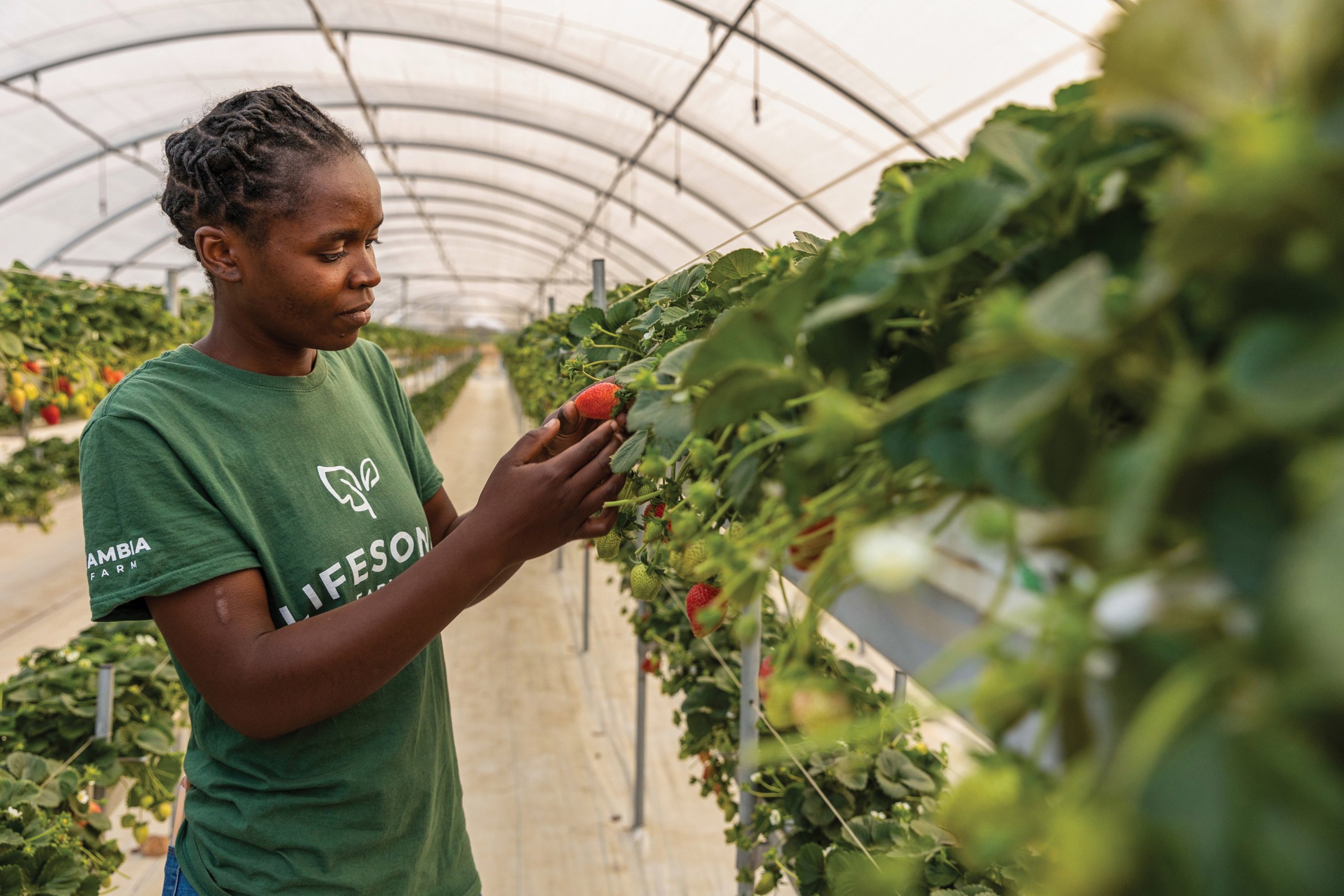 Dorothy is breaking the mold.
Women in Zambia are often looked down on. Most are married in their teens, and very few learn a skill or trade.
But not Dorothy.
She's learning business and agriculture, and training under farm leadership.
"I'm learning how to live with others, to focus on Jesus in whatever I'm doing, and to work hard."
Your part in this story
Dorothy's life would look incredibly different without people like you who pray and give to support Lifesong Farms. In her words—
"My mom would not have managed to take me and my siblings to school. I might have been married just so that I can have support, and I wouldn't know Jesus."
But God used you to write a different story with Dorothy's life. And now, girls in Zambia have a strong, Godly role model to look up to. Dorothy's life is creating a ripple in her community, and we pray her impact will grow for generations to come. We have every reason to believe it will.
Send girls like Dorothy to school in Zambia.