News From Ukraine: Friday, August 5
See the complete archive of news, updates, and prayer requests from Lifesong Ukraine here.
"My life is divided into before and after February 24."
—Tatiana, Ukrainian Refugee in Poland
Lives are divided. Many Ukrainian refugees can recall the exact place they were on February 24th, when they first heard the news of the invasion.
While lives are divided, the Lifesong Ukraine team is more united than ever. They're standing as one body to bring the love and care of Jesus to orphans and vulnerable children and families. And with your support, they're reaching more people than ever before.
Here's the latest from the Lifesong team serving in Ukraine and Poland. 
Establishing Ministry in Poland
Millions of Ukrainians have poured into Poland in the last few months. And praise God, through existing relationships in Warsaw and international travel at the time of the conflict, our team is uniquely equipped to meet their needs.
This incredible video gives a glimpse into our ministry in Poland. You'll meet a few refugees we've served and hear from Denis, director of Lifesong Ukraine.
See what's happening in Poland.
Continuing the Mission in Ukraine
Kharkiv Day Center
In Kharkiv, Ukraine's second-largest city, 2,907 residential buildings were damaged—more than 30% of the entire city. Shelling still occurs every day. But ministry continues.
The Kharkiv Day Center is one of the biggest blessings. It's a hub for relief aid distribution, counseling, art and music education, tutoring, and children's classes. Nearly 100 children and teens visit every week.
The classes not only give us a chance to encourage children with God's truth but also helps take their minds off the war. Our students are engaged in things that interest them, are carried away by the process, and build new friendships. Our staff and mentors are modeling Christ and helping our kids to think and move forward.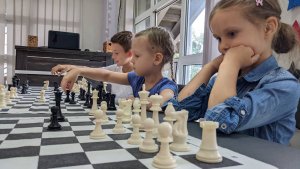 Lifesong Farms
The city of Liubotyn, just outside of Kharkiv, suffered air attacks—about 5% of Liubotyn is damaged. But the Lord has kept our team and Farm Site 1 (just outside Liubotyn) safe!
At the beginning of the war, within 10 weeks, Farm Site 1 was able to provide refuge to more than 250 people. Around May 15, as Ukrainian troops held off pressure from the enemy, many returned to their homes.
Our team remains at Farm 1, organizing events for people who visit. Over the past few months, this farm has served hundreds of people, held an event for unbelievers to hear about Christ, hosted youth from churches, and been a wedding venue. We are planning to hold a camp for at-risk families.
We also invite graduates, students from vulnerable families, and others to find employment and purpose on the farm.
Right now, about 70 people on the team are joining in the blueberry harvest. Jobs are scarce, and this is a practical way we are showing people Christ and support for their families.
Thank you for staying invested in the lives of people in Ukraine! Please continue praying for an end to the war, for the salvation of souls, and for God's name to be glorified in every decision made by our team on the ground.
WILL YOU BRING GOSPEL-CENTERED
CARE TO UKRAINE?
Thanks to TMG Foundation and key partners, all of our fundraising and administrative costs are covered. 100% of your gift will directly support vulnerable children and families in Ukraine.
See the complete archive of news, updates, and prayer requests from Lifesong Ukraine here.
---
Ukraine Prayer Updates
Get these updates and prayer requests delivered to your inbox.