News From Ukraine: Tuesday, April 26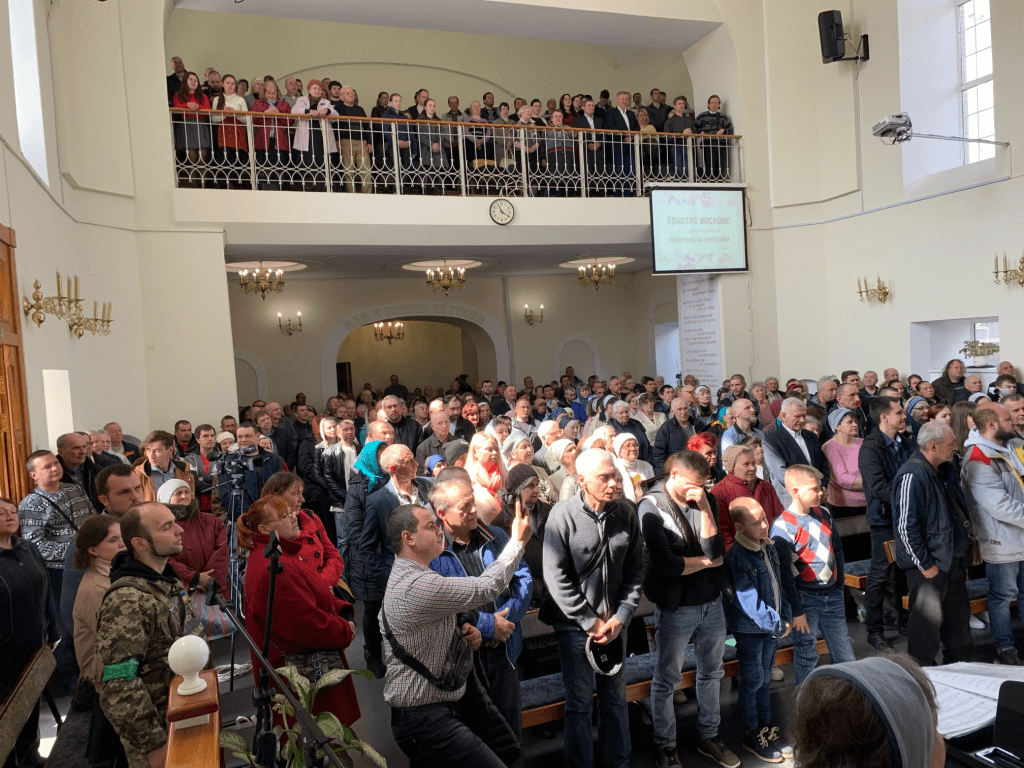 See the complete archive of news, updates, and prayer requests from Lifesong Ukraine here.
Jesus is alive!
Ukraine follows the Orthodox calendar, so Easter celebrations took place this weekend. Churches were extremely full as they celebrated the resurrection of Jesus. One of our team members in Chernigov reported that about 70% of the people in attendance were new. The photo above comes from our team in Kharkiv, who also had an overflowing church building.
Our teammates at the relief distribution center in Kharkiv distributed over 500 packages of relief to the community where Vlad, a local pastor, preached a short message on Christ's resurrection.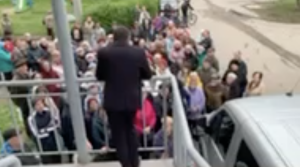 Vlad shares the Gospel during food distribution on Easter Sunday.
The hope we have in Jesus is reason enough to praise God. And still, He gives us even more reason to glorify His name!
Here are a few glimpses of His goodness in the lives of orphaned and vulnerable children in Ukraine…
Orphans Becoming Leaders
We had the opportunity to chat with Kolia, an orphanage graduate and Lifesong team member. (Watch his powerful story here.)
Kolia typically serves children in orphanages. But now, he serves as a relief and evacuation driver in the Chernigov region. He drives vans back and forth from high-conflict zones to safer regions in the west.
He shared two sobering yet miraculous stories from his evacuation route.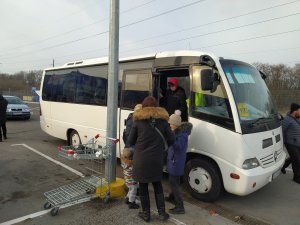 Women and children load into our vans to begin the trip west.
Incoming Missile
While driving a full van to western Ukraine, a commotion broke out among his passengers. They screamed as they looked out the window and saw a missile coming directly toward them. It flew over the van and landed next to the road. Miraculously, it didn't detonate. By God's grace, they arrived at their destination completely unharmed.
Car Trouble
During another trip, the van started slowing down. Kolia pressed the accelerator, but nothing happened. The van slowed to a stop, and he began to panic as his convoy of other vans continued ahead. Just a few moments later, a missile landed on the road a few hundred yards in front of them. Had the van continued moving, they likely would have been in its path. No one in the convoy was harmed.
God is clearly shielding our team from evil and harm. Your prayer and intercession on their behalf are absolutely critical. Please continue to pray for their safety.
Orphans Finding Families
For the past decade, our team in Ukraine has led an adoption support group called Lifesong National Adoption Club. The club promotes adoption among Ukrainian families by facilitating training and assisting with placement. Ultimately, their hope is to empty State-run orphanages. Over the years, their efforts have brought over 250 children from orphanages into Christian families.
Given the circumstances, the club isn't meeting and running programs as usual. And yet, the years of this faithful ministry have equipped families—like Volodya and Lilya—to be used for such a time as this.
A few weeks ago, two siblings in Kharkiv lost their parents to the conflict: a 1-year-old boy and a 3-year-old girl. Praise God, Volodya and Lilya were ready and willing to bring these children into their family. They received a temporary wartime adoption permit, and Lord willing, the court will finalize their adoption as soon as possible.
The effects of this war are heartbreaking. And still, we see God working through the Church to provide for orphans' needs.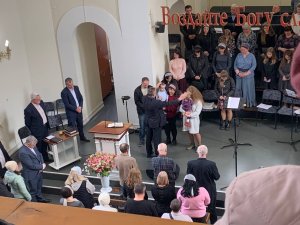 Volodya and Lilya's local church prays over their family as they commit to becoming the parents of two orphaned children.
We mentioned a while back that one of the orphanages our team serves was in a "no-man zone" and subsequently under Russian occupation. Praise God; the conflict seems to be moving from their region for the time being. The occupation has ended and the children are returning to their activities and schooling as usual!
Please pray for Ukraine and specifically for:
Peace in Ukraine and the war to end.
Safety of drivers and passengers as they travel across Ukraine, evacuating civilians and delivering relief materials.
The Church, locally and globally, to step up and care for children displaced from their families.
God to grant wisdom and direction to our team setting up refugee operations in Poland.
Our team to boldly share the Gospel with all they serve.
Thanks to TMG Foundation and key partners, all of our fundraising and administrative costs are covered. 100% of your gift will directly support vulnerable children and families in Ukraine.
See the complete archive of news, updates, and prayer requests from Lifesong Ukraine here.
Ukraine Prayer Updates
Get these updates and prayer requests delivered to your inbox.
HOW CAN YOU HELP?
Host a Prayer Meeting
Gather community members, church members, your family, your small group… for a time of updates and concentrated prayer. Share the latest video update from our team (above) and pass out this list of verses. Pray through the verses as a group.
Organize a Day of Prayer & Fasting
Spread the word to your local church and commit to 24 hours of corporate fasting and prayer.
Stay Updated on Current Prayer Requests
Continue to check in with trusted organizations in Ukraine to see the most pressing and urgent needs. Pray for these needs specifically!
Financially Support Ukraine Relief
The financial needs for food, fuel, safety, and housing through Lifesong Ukraine will be very significant. Beyond immediate needs, the financial needs for rebuilding will also be immense. You can partner financially by giving a gift here.
Thanks to TMG Foundation and key partners, all of our fundraising and administrative costs are covered. 100% of your gift will directly support vulnerable children and families in Ukraine.