Faces on the Frontline: Relief & Evacuation In Ukraine
War in Ukraine rages on.
Despite relief efforts, civilians are now being targeted, and infrastructure in major cities has been devastated.
Over 10 million people—nearly a quarter of Ukraine's population—have fled their homes seeking safety. Of those who have evacuated, 4.3 million have crossed the border into neighboring countries and beyond. The other 6.5 million are displaced within Ukraine itself.
Those who can't flee high-conflict zones face food, water, fuel, and medication shortages—not to mention the ever-present threat of air raids and occupation.
So what happens to those who can't evacuate?
Praise God, there is a courageous network of men and women rising up to meet urgent needs throughout the war-torn cities of Ukraine.
The Body of Christ, including our teammates, continues making an offering of their suffering, boldly reaching out and helping others, when the favorable alternative would surely be to hunker down and shield themselves against all the pain and danger.
Hear first hand from Lifesong teammates risking their lives in the city of Kharkiv—
Praise God, for some, evacuation is possible and happening daily! 
While conditions are unpredictable and the routes are risky, fleeing for safer shelter in the west and beyond is the best course of action for many in Ukraine's hot zones.
Those evacuating need only make the trip once. But those driving the vans back and forth are putting themselves in harm's way time and time again.
Hear first hand from an evacuation driver on the Lifesong team—
Thanks to TMG Foundation and key partners, all of our fundraising and administrative costs are covered. 100% of your gift will directly support children and families in Ukraine.
Faces on the Frontline
Daniil
One of our teammates in the Kharkiv region, Daniil shares—
"War changes people a lot, and today is the time to serve and help people around us. We do this to show them Jesus Christ, Who cared for the poor and was available for hundreds and thousands of people, meeting their basic needs and giving them a living Word!"
Artur
A Lifesong teammate serving as a coach and mentor for children from orphanages, (read his inspiring story here.) today, Artur is a vital part of how God is providing for the people of Ukraine.
He shares—
"My family had a chance to move from here but God inspired me to stay and be helpful in this challenging time to bring glory to the Lord."
Vlad
A teammate who is helping distribute food to 800 households a week, Vlad says—
"They need our help, and I see I can do that. I do what I can with what I have."
Gita
She is a 38-year-old mother who recently gave birth to a baby born prematurely at just 34 weeks. The baby suffered a cerebral hemorrhage and now struggles with seizures, for which she relies on medicine to keep at bay.
By God's grace, and with support from people like you, our team was able to help. In Gita's words—
"I'm very grateful I got the necessary medicine. I prayed to God to get it. I'm grateful to God and you."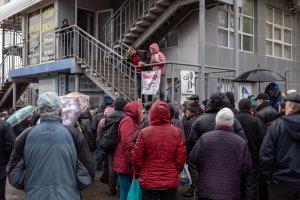 Vladimir
Vladimir serves as the pastor of a church in Kharkiv. He shares—
"It's good to know that you are doing something for the Heavenly Kingdom. To go where it is hard and where there is need. To bring people what they lack and share the Gospel with them. I think it is a privilege for every Christian."
What God Has Done
Praise God, our team was supporting the most vulnerable in Ukraine long before this conflict began, and we will continue to be Jesus' hands and feet as long as we're needed.
Our team has 10 vehicles operating for both evacuation and relief supplies delivery. Specifically, our team is focusing on high-risk people first, such as crisis families, single mothers with children, and those with special needs.
Our three distribution centers serve 1,500 people every day.
Lifesong staff, volunteers, and network of our partners have evacuated more than 30,000 people from the east to the west, and many have crossed the border into Poland.
In Poland, between two camps and integration centers, our team has directly impacted 2,000 people. And through our network of church partnerships, over 10,000 people have been impacted.
We live in a brutal world, but we serve an amazing God who brings about incredible beauty. Even as our hearts ache for things to be made right, God is working—and He's using you to reach our Ukrainian brothers and sisters in both Ukraine and Poland at a critically important time.
You can send relief to Ukraine.
Thanks to TMG Foundation and key partners, all of our fundraising and administrative costs are covered. 100% of your gift will directly support children and families in Ukraine.
See the complete archive of news, updates, and prayer requests from Lifesong Ukraine here.