If you've ever wondered what sponsorship can really do for a child in need, this is your answer.
Here's an update from one of our Ethiopia teammates, Shonda Dietz.
.
Ethiopia—so much poverty, so much devastation, so many hard things. How much of a difference can one school sponsorship make?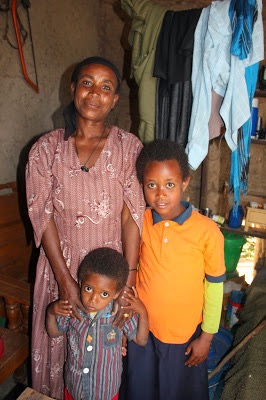 Six years ago on a trip to Ethiopia, I walked a 1st grade little girl home from school and spent time with her family. Her name was *Nollay, and by all measures, her chances of school retention and lifetime success were abysmal. 
Her father had died, and her two older brothers had dropped out of school to support the family as fishermen at the local lake. Her mother was very ill, and her 2-year-old little sister needed looking after, especially if her mother's illness got worse.
And yet, there was hope.
Nollay was in school—a great school—for which they praised God.
Yet, how long could it last?
I return to Ethiopia every year, and every year Nollay is one of the first kids I look for when I step into the chaos that is the primary school yard in Ziway.
Statistically, the chances of this little girl still being in school given her circumstances are so slim.
So I hold my breath and say a prayer. Will she still be here this year? The deck seems to be extraordinarily stacked against her.
And yet, there is still hope.
So what happened to Nollay?
She's still there! She's growing into a beautiful young woman.
It brings me so much joy (and probably weirds her out a little) when I hug her neck and celebrate her growth and success. She's beautiful, strong, and funny. She is the face of hope and resilience. She tells me in English that she wants to be a doctor when she grows up, and her favorite subject is Physics.
Physics?! I'm not even sure my 7th grade son knows what Physics is.
Because of generous sponsors, all these years she has received two nutritious meals per day and an excellent education from teachers who love her and share the hope of the Gospel with her. Not only is Nollay thriving at Lifesong School, but her baby sister is now in 1st grade at Lifesong School receiving and giving that same hope.
Their mom still battles illness off and on, but the girls are able to go to school and thrive in their environment.
What looked like a no-win situation for her and her family has turned into the unthinkable.
Two poor girls (GIRLS!) from rural, southern Ethiopia have been given real tangible hope to break the cycle of poverty into which they were born. Because of generous sponsors like you, Nollay absolutely CAN be a doctor when she grows up.
Because of generous sponsors like you, she's not just a 13-year-old girl selling vegetables (or something worse) by the side of the read. She has hope. She IS hope!
.
Thank you for your generous sponsorship of Nollay and her sister … and hundreds more just like her. Together, this community in Ethiopia is being transformed and HOPE is real.
*Name changed for protection
You can give hope to a child like Nollay in Ethiopia today.