The Unimaginable Blessings of Adopting Arvin
Shawn and Brittany liken the blessings of adoption to the ripples of a stone tossed into a lake.
Adopting their son, Arvin from India was the blessing that started it all, but through every stage of the adoption journey, God did exceedingly and abundantly more than they could ask or imagine.
Because of their obedience to God's call to adopt, Shawn and Brittany also:
became witnesses to the generosity of their community
saw God move mountains to bring their son home
used a new skillset to serve children with disabilities at their church
Witnessing the generosity of their community gave them the encouragement they needed to keep moving forward.
Shawn and Brittany share—
"We remember the day we got the call for our matching grant. Our jaws dropped at the generosity of Lifesong and its donors. Our friends rallied around us and had the matching grant met within a few weeks. To have that support doubled meant the world to us as we assessed our adoption budget."
They also clung to the real-life stories of other adoptive families and utilized educational adoption resources that further ignited their perseverance.
Once funded, Shawn and Brittany flew to India with their hearts and hands prepared to bring Arvin home.
After many delays in the process, they visited a rural courthouse to finalize legal documentation for the adoption. Sadly, when they arrived, they were told it would be at least another month before they could be seen. Shawn and Brittany couldn't stay in India that long, and they couldn't imagine having to leave their son.
"Our hearts were shattered," they said. "The court was closing in five minutes, and everyone was leaving."
They had no clue that a higher official had called the chief judge and asked for expedited help.
Brittany said—
"We had our court order by the next day and spent the next three weeks in India finalizing the adoption. When all hope was lost, God made a Red Sea road for us. That was the most miraculous day of my life!"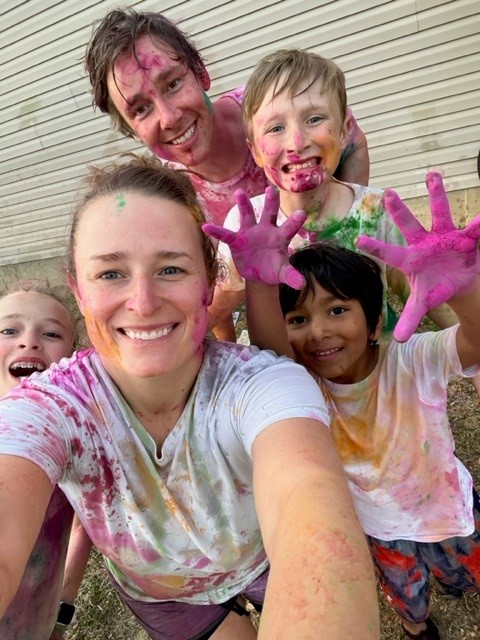 But that was not the end of their adoption blessings.
Before they brought Arvin home, they thought he would develop disabilities as he grew. They prepared ahead of time by having specialists lined up and learned how to care for a child with physical and mental delays.
However, four years later, Arvin is a healthy first-grader who shows no sign of disability. Instead of using what they learned to help Arvin, Brittany decided to use the skills she gained to serve children with disabilities at their church.
Brittany explains—
"A couple years ago, I felt the Lord leading me within my job at our church. I realized the Lord equipped me, but I wasn't using that knowledge. I had the capacity to help special needs families at our church, so the church allowed me to create a new role leading our children's special needs ministry. We serve a dozen families and provide respite nights four times per year. The Lord makes this ministry thrive so we can serve our community in a beautiful way!"
Shawn and Brittany marvel at the ripples of adoption and how these adoption blessings have impacted their lives and the lives of others in ways they couldn't have imagined.
Adoption journeys can be filled with ups and downs, but God blesses those who obey his call to care for the fatherless in more ways than one. When you adopt or give to help other families adopt, your obedience goes further than you think.
---

Is God calling you to adopt?
We guide adoptive families through the fundraising process, removing the financial barriers to adoption. Download Lifesong's free adoption financial assistance application to receive matching grants, interest-free loans, and to access to our free crowdfunding platform!