How God Led One Family to Adopt a Daughter with Down Syndrome
Adoption is complicated.
To an outsider, it might seem like families choose to complicate it even further by adopting a child with special needs. But here's a look at one family's perspective…
---
When we first started the adoption process, we pursued infant domestic adoption.
While waiting for a match, our family participated in our local walk for Down Syndrome. We had participated the year before and were back to support a friend of ours.
Andrew, our oldest, had been a community helper in his elementary school a few years earlier and was assigned to help a student with Down Syndrome at dismissal each day.
His love and compassion for this student were immeasurable from the moment he started. He realized that God created this happy little boy for the world to love, and despite his challenges, he was a superstar.
Change of Plans
At that walk in September of 2018, Brian felt a connection to the Down Syndrome community. He didn't say this directly to me, but I believe God planted that thought in his heart for the right moment. Because shortly after the walk, I came across a project that is specific to our adoption agency.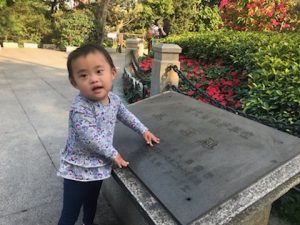 The project was started to help bring awareness to and increase adoption among adoptable children with Down syndrome in other countries—countries where access to all the amazing things we experienced and witnessed at that walk aren't necessarily present.
My heart broke for these children. On a drive home from an adoption training, I brought the possibility of an international special needs adoption up to Brian. We had already ruled out international adoption because the cost was too great.
It just wasn't an option. Until God said it was.
I shared my heart with Brian, and Brian told me about his feelings at the walk. We quickly realized God had this planned all along. He knew what he was doing. The path God carves for us doesn't always come on our time. It doesn't always happen how we want it to or look how we think it should. It comes on His terms, and He was making sure we heard Him loud and clear. How silly we were to question His timing.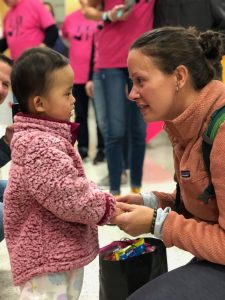 The Impossible Made Possible
After being matched with our sweet daughter, Ellie, we began completing adoption grant paperwork—including one for a matching grant through Lifesong. We were hopeful and prayerful as we waited to see if we would be awarded a grant through Lifesong because we knew additional adoption fees and travel costs would be ahead in our process.
In July 2019, we were notified we had received a matching grant, just as our dossier was logged in in China!
We were overjoyed by this wonderful gift God had provided by placing it on someone else's heart to provide this financial support to our family.
Our friends and family quickly met the match. We actually had to continue to increase our "goal" as we moved ahead due to the overwhelming generosity of others around us. All of these beautiful donations allowed us to continue moving forward in our adoption process. They kept our fees paid and made sure we had adequate funds available to cover our travel completely.
Without the $3,000 matching grant through Lifesong, we would not have been able to continue at the pace we did. Our daughter was home a short 4 months later in November 2019. The joy that our family has experienced through this has been a blessing and changed us forever. We are so very thankful for the resources available through Lifesong and the support they provided along the way.
---
We believe money should never be the reason a child doesn't have a family.
So we guide adopting families through the fundraising process, removing the financial barriers to adoption. Download Lifesong's free adoption financial assistance application to receive matching grants, interest-free loans, and access to our free crowdfunding platform!
Download Your Free Application
"*" indicates required fields