4 Tickets on the Last Flight Out
Both international travel and adoption come with unpredictable elements.
But add a pandemic to the mix and the word "unpredictable" takes on a whole new meaning.
Hear how the COVID-19 pandemic impacted one Lifesong family—Kelly, Laura, and Sloane, who was adopted from Ethiopia two years ago—as they traveled to South Africa to finalize the adoption of their son, Ricardo.
In Laura's words…
A little less than two weeks ago, we returned from South Africa where we completed the adoption of our son Ricardo. Our time in South Africa was filled with so many uncertainties, but amid everything, the one most certain thing in our life—God—rose above all it all. He was our steadfast light in the darkness and questions.
Uncertainty is the name of the game when it comes to international adoption. You are dealing with another country's government who makes the rules and sets the timelines.  Both of our adoptions have been a complete walk of faith for us, a time where we could draw closer to our Heavenly Father.
During our most recent adoption, the process was strategically laid out. We had a timeline while we were in South Africa that consisted of different steps along the way that had to be completed before we could move onto the next step.  Each step had an anticipated amount of time it would take. We expected to be in South Africa for about three months but were uncertain exactly when the last step would be completed so we could travel home.
We left the first week of February.
At that time there was talk of the COVID-19 pandemic, but it was only in China at the time. It was in the back of our minds, but certainly was not something we thought would play a significant role during our time in South Africa.
Our adoption of Ricardo went off without a hitch the first part of our trip. We were overjoyed to have Ricardo become a member of our family! We had a lot of free time the first month to explore the greater Cape Town area and begin the bonding process as a family.
About a month into our trip, COVID-19 was a hot topic. It had reached the States but hadn't significantly hit South Africa yet. As we started to see cases of COVID-19 appear in South Africa, specifically in Western Cape where we were located, we had a lot more late-night discussions after the kids went to bed. I (Laura) have a significantly compromised immune system. I traveled with a lot of medications and only brought about an extra month's worth.
Each day, the cases of COVID-19 in Cape Town significantly grew. We tried to isolate as best we could, but there were adoption appointments we couldn't miss. There was chatter going around that South Africa's borders would close for an indefinite amount of time. But we couldn't leave the country yet. Ricardo needed a South African passport to get out of the country.
Then one of our biggest fears happened.
President Ramaphosa announced on Monday, March 23 that South Africa would be under a 21-day nationwide lockdown starting at midnight on Thursday, March 26. And we still had four steps to complete before we were allowed to leave. Those steps were expected to take at least another month. The questions started to flow in our mind:
Can we ride out this global pandemic in South Africa?
What are we going to do when Laura runs out of medications?
When our rental house reservation ends, where are we going to stay?
Will we have the finances to stay here significantly longer than we budgeted for?
There are so many ways throughout this whole adoption we saw God's hand at work. He had moved mountains already during our time in South Africa, and right now, we needed a true miracle from Him.
Our lawyers had already reached out to the government many times trying to get our case expedited due to the global pandemic. But it was falling on deaf ears. The borders were going close within days and we needed answers. We needed a path forward. Our chances of leaving South Africa within 2 days without a South African passport for Ricardo seemed like it was not humanly possible.
But we weren't looking to "humans" to make it possible. We were praying to our one true God, where the word "impossible" is not in His vocabulary.
Our lawyers decided to take our case to the highest court in South Africa. It was only in the High Courts that a judge could overrule the South African government.
It was a long shot.
Our lawyers spent all day battling in the High Courts—right up until the very end when the judge sided with us. He gave us emergency documents allowing Ricardo to leave South Africa without a South African passport! This was an absolute miracle! It is incredibly rare for a judge to overrule the government.
With the decree in hand, we scrambled to get on the last flight out of the country. It was scheduled to leave two hours before the borders closed. By God's grace alone, we secured four tickets on that flight from South Africa to London.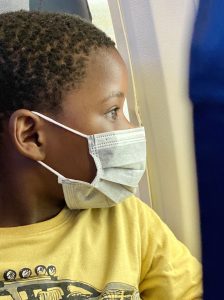 We arrived in London and sat in the airport waiting for our connecting flight. Eight hours later, we boarded an empty flight to JFK and arrived in JFK to an empty terminal. A three-hour car ride later, we were officially home.
There is not a global pandemic or unexpected adoption challenge that God won't take care of or have power over.
The beautiful thing is that Ricardo's adoption story was already written long before we ever even set foot in South Africa. We were simply living in the story that God already had an end to. And the most amazing thing is that our story with Ricardo is just beginning! We don't even know the end yet, but God certainly does. We are so excited to see what God has in store for our family.
CONSIDERING ADOPTION?
We were honored to partner with Kelly and Laura's family as they pursued adoption. We provide adoption financial support to adopting families, helping them overcome the financial barriers of adoption.