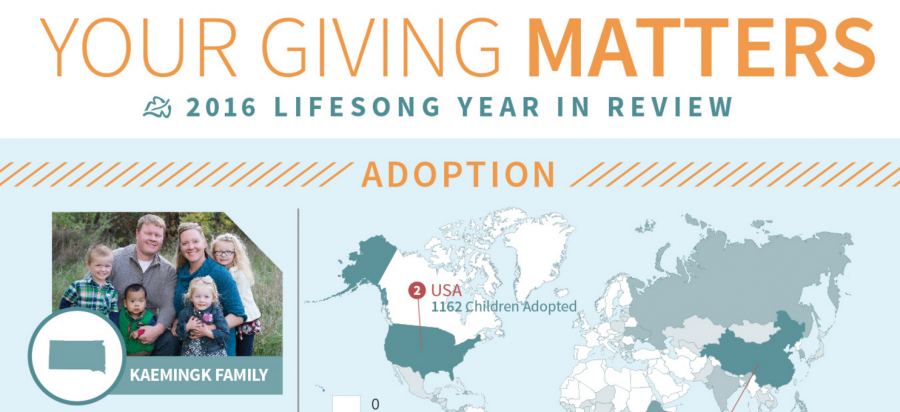 As we reflect on God's goodness in 2016 …
We are grateful beyond measure for your continued love and support for orphaned and vulnerable children around the world. We are also quick to remember that the most important stories are not easily communicated on charts or as statistics–children trusting Christ for salvation, volunteers sacrificing precious time, widows praying earnestly for the fatherless, missionaries choosing faithfulness on the field, donors giving sacrificially–that make the ministry possible every single day.
UPDATE: Thank YOU for helping meet the match! Our goal: $1,ooo,ooo. What happened: You contributed $1,205,330 to help children and families. We praise God for His faithfulness–and yours–in exceeding our goal!
Thank you for being a critical part of the mission of Lifesong. We look forward to what God allows us to accomplish together this year.
 
Take the next step in 2017.

Join Lifesong by creatively and practically caring for orphans around the world through one of our many exciting Advocate Opportunities.
Related Posts
[wc_posts author="" author_name="" p="" post__in="" order="DESC" orderby="date" post_status="publish" post_type="post" posts_per_page="3″ taxonomy="post_tag" field="slug" terms="adoption" title="yes" meta_all="yes" meta_author="no" meta_date="no" date_format="M j, Y" meta_comments="yes" thumbnail="yes" content="yes" paging="no" size="wccarousel" filtering="yes" columns="3″ gutter_space="20″ heading_type="h4″ layout="grid" template="box" excerpt_length="15″][/wc_posts]