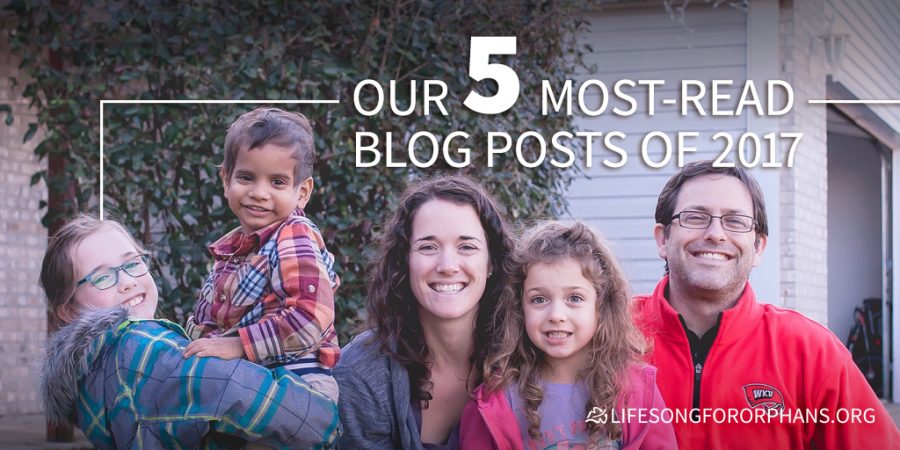 It's hard to believe that 2017 is coming to a close, but we are excited for what lies ahead. In the meantime, here is a round-up of our top posts from this year.
5. 
It is possible for the average American family to afford an adoption, and–with a significant amount of determination, prayer, and elbow grease–to pay for it without accumulating debilitating debt. Here's a potential road map to debt-free adoption.
4. 
When you hear "orphan in America," who comes to mind? The truth may surprise you.
3. 
Foster kids need the church. Foster families need the church. Here are 15 ways to be a foster care friendly church.
2. 
Since adoption receives negative publicity at times, it's nice to read about adoptees who grew up to do interesting or extraordinary things with their lives. Here are 13 examples.

Brandon, a newly adoptive dad, writes about the journey, "The grief we are sharing in right now is not abnormal. It doesn't mean we're doing it wrong. In fact, it means we're doing it right." He explains why.
.
Now is the time to help orphans become sons and daughters.
Related Posts
[wc_posts author="" author_name="" p="" post__in="" order="DESC" orderby="date" post_status="publish" post_type="post" posts_per_page="3″ taxonomy="post_tag" field="slug" terms="adoption" title="yes" meta_all="yes" meta_author="no" meta_date="no" date_format="M j, Y" meta_comments="yes" thumbnail="yes" content="yes" paging="no" size="wccarousel" filtering="yes" columns="3″ gutter_space="20″ heading_type="h4″ layout="grid" template="box" excerpt_length="15″][/wc_posts]