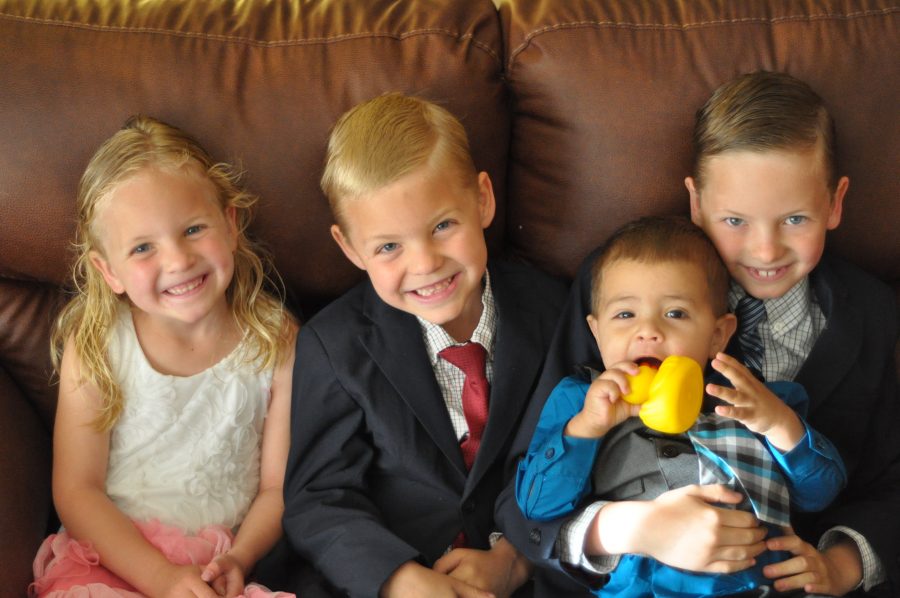 My husband always wanted to adopt, but I was a little more reluctant.
I don't really think of myself as a kid person, and I was worried about loving and bonding with a child that wasn't biologically mine. Fast-forward 9 years of marriage and 3 biological kids. We were "done," but God wasn't done with us. He began leading our hearts toward adoption, which was easy for my husband, Conner, but quite the task for me. I fought it every step of the way but finally could no longer deny the pull toward adopting and completing our family.


It took us nearly 9 months from start to finish. In February 2016, our son John was placed into our arms. The process was hard and filled with emotional ups and downs, but it grew me and prepared me for the moment I became Mom to John. God in His kindness and provision prepared the way, and the difficulties are now a distant memory. The process and end result were completely different than we would have written for ourselves, but isn't that the way life goes? God is God, and we are not! I cannot picture another baby in the entire world to be ours besides John, and I know he was prepared specially for us, and us for him.
I wouldn't trade him for everything I would have said I wanted when we began this adoption.
Unexpected privileges
John's birth mom is so dear–she laid aside her desires and emotions for his good. First, she wanted me there for his birth! She cut the cord and held him first, then gave him to me for the second half of the bonding hour right after delivery. She was excited about my desire to breastfeed and encouraged me to try when I first held him. Being able to see his birth and nurse him have been some of the totally unexpected and undeserved but sweetest gifts God has bestowed upon me. Because of legal matters, after his birth, our entire family, plus my husband's mom who is an absolute angel, lived in a hotel room for a month before we got the call to come home. We were able to finalize and become a forever family on December 19th, 2016!


From reluctance to rejoicing
I once believed adoption was only about us caring for orphans as God commands us to do. But it is about so much more than that. The last year and a half going through this process has brought me to my knees in praise of the great God. HE allowed me to be a part of His plan. Instead of me saving my son, he has really saved me. I have grown and changed in a million different ways, and I've had sin painfully yanked out of my own heart as I was forced to confront my prejudices and sins. I have seen family and friends be changed by experiencing this miracle with us and grow to love adoption. (Some of whom have gone on to adopt!) By God's grace, I now understand love so much better (even than with my biological kids).
There is something special about setting your love on someone not because they come from your body, but because you choose to make them your own–just like God's covenantal love for us!
Unlike with our biological kids, I had absolutely nothing to do with bringing our son into our family. I am brought to tears by the sweetness and love of a God. He gave me the privilege of being my son's mom!
Thank you for the opportunity to share our story, and for the interest-free loan that financially allowed us to complete this adoption!
Thank YOU for sharing your story and for your transparency. As you know first-hand, God often calls us to complete unexpected tasks at (seemingly) inconvenient times to invite us to trust and depend on Him in new and deeper ways. He is good all the time!

Be God's answer to a child in need.

Related Posts
[wc_posts author="" author_name="" p="" post__in="" order="DESC" orderby="date" post_status="publish" post_type="post" posts_per_page="3″ taxonomy="post_tag" field="slug" terms="adoption" title="yes" meta_all="yes" meta_author="no" meta_date="no" date_format="M j, Y" meta_comments="yes" thumbnail="yes" content="yes" paging="no" size="wccarousel" filtering="yes" columns="3″ gutter_space="20″ heading_type="h4″ layout="grid" template="box" excerpt_length="15″][/wc_posts]