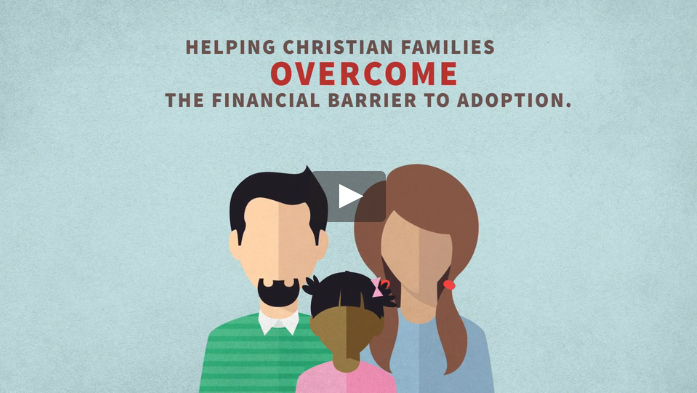 Several years ago, Julie James was shaken to her core by the reality that many would-be, should-be adoptive parents are unable to bring children home because of 1 obstacle: finances.
In her opinion, finances should never stand in the way of families doing what God has called them to do. After reading a blog post written by a family who desperately wanted to adopt but could not, due to finances, Julie typed four words into an e-mail and sent them to her best friend in the middle of the night. The words: THIS IS NOT OK.
And the seed was planted in her heart to do something–to give families she knew and loved a tangible way to bridge the gap of adoption financing and bring their children home.
In her words–
"My faith in the fact that God does provide was solid. He owns it all. It wasn't a matter of IF God was going to provide for adopting families, but HOW. And the how was the Body of Christ."
How Hearts of Compassion Began

Julie and her best friend, Julie Welch, decided it was time to act. Enlisting a team of equally passionate volunteers, they took steps to begin Hearts of Compassion: The Orphan Care Ministry of Colonial Heights Baptist Church, where their focus became raising awareness of the plight of the orphan and assisting Christ-following families in the funding aspect of their adoption journey.
In Julie James's words, "We in NO way felt equipped to do what we felt God was calling us to do, but the calling was so strong, all we could do was step out in faith."
And step out in faith they did.
They began researching what it would take to start a 501(c)3, but what they discovered was discouraging. They encountered terms like "red tape" and "timing of payments" and "huge expenses." How could they fulfill their vision to help families adopt without understanding the intricate ins and outs of tax exemption and charitable giving?
Thankfully, the answer was simpler than the team ever could have imagined.
Lifesong Church Fund Partnerships
"We asked around and sought wisdom," Julie James explains. "With every fund we ended up going separate ways because each partnership's vision ended up different from ours … except for Lifesong."
Here at Lifesong, we agree with Julie and her team that the Church is the solution to the orphan crisis, and specifically to the hurdle of adoption funding. We desire to make it as easy as possible to visit orphans in their affliction, so we offer adoption funds at no cost to churches. No catch.
We were honored to talk to Hearts of Compassion and hear about their vision for a church adoption fund ministry. What we heard from Julie–and from so many others like her–is a deep desire to help families adopt, made difficult by 3 common hurdles:
Church staff "plate is already full" to administer a fund.
Leadership feels uncomfortable approving/denying their own families.
Members are unfamiliar with IRS-approved adoption funding processes.
We partnered with Hearts of Compassion and have seen 48 families receive adoption funding to bring their children home, including the Mitchell family.

If Hearts of Compassion had not existed, the Mitchell family quite possibly would have had to say 'no' to the placement of this baby because of finances. –Julie James, Hearts of Compassion, Colonial Heights Baptist Church
Practical Ways Church Fund Partnerships Could Benefit YOUR CHURCH
If you are looking to create financial solutions for adopting families in your church that are fee-free and administratively simple, we can help in 3 ways:
We'll manage/facilitate your adoption fund using mutually-agreed-upon criteria for applications, accounting, receipts, disbursement, etc. Consider us a partner.
We'll provide the necessary screening, reviewing, and approving/denying of families for funding. Meaning you can focus on ministering to them.
We'll use our existing grant/loan procedures that are IRS- and ECFA-approved to maximize your stewardship. So you don't need to worry about navigating the unfamiliar territory of adoption funding.
Basically, we handle the administrative, back-end of adoption funding, so you can do what you do best. Love and care for families who desperately want to adopt by the grace of God.
You can do it and we can help.
Wondering if we can help you or your church ministry with a church adoption fund? We'd love to hear from you: 309-747-4527.

"Lifesong makes my job much more joy-filled and simple. We can focus fully on ministering to the families and fundraising so that we can continue to say yes to families through no interest loans and matching grants."
–Julie James, Hearts of Compassion, Colonial Heights Baptist Church
Encourage families in your church to adopt.


Save
Save
Related Posts
[wc_posts author="" author_name="" p="" post__in="" order="DESC" orderby="date" post_status="publish" post_type="post" posts_per_page="3″ taxonomy="post_tag" field="slug" terms="adoption" title="yes" meta_all="yes" meta_author="no" meta_date="no" date_format="M j, Y" meta_comments="yes" thumbnail="yes" content="yes" paging="no" size="wccarousel" filtering="yes" columns="3″ gutter_space="20″ heading_type="h4″ layout="grid" template="box" excerpt_length="15″][/wc_posts]