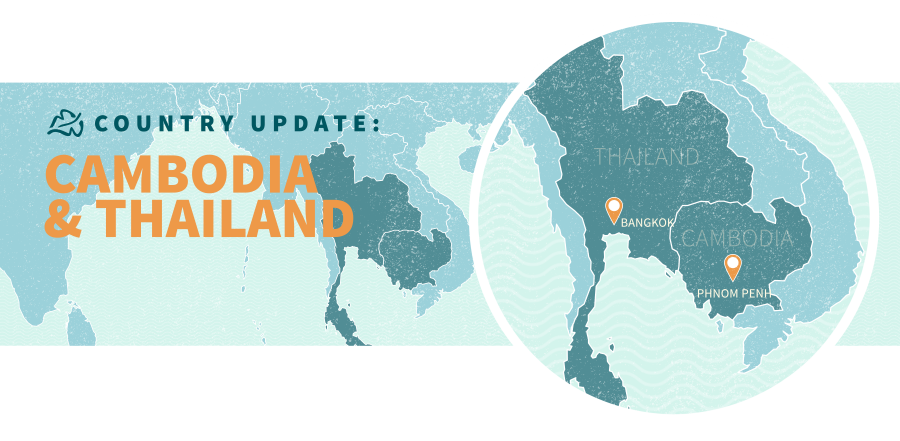 God continues to do big things for the children of Cambodia and Thailand, and we are blessed to have a front row seat to His work. 

Specifically, 40 Cambodian and Burmese children now gather daily at the Construction of Hope Project in Bangpli, Thailand, to receive education, skills training, and discipleship. With the recent start-up of several new and exciting programs, this summer has produced a vibrant display of their unique talents and abilities. The recently-developed cooking class, for example, has not only produced many tasty treats, but it has also revealed the culinary and leadership potential in Chris, Amy, and Joseph.
As the oldest students in the program, these three young people each lead a team of mini-chefs that go head-to-head each week to see who can produce the most delicious dish. Not only does this encourage team spirit and fun competition amongst peers, but it builds relationships and teaches invaluable cooking skills to kids who will grow up and use what they've learned.
Two of these student leaders–Chris and Amy–found sponsors during Lifesong's February sponsorship campaign. Here's an update on them and what God is doing–through you–to work in their lives.
Update: Amy
The daughter of Cambodian migrant workers, Amy joined the program in Thailand 2 years ago when her parents found work on a construction site near a Construction of Hope project. When she first joined Lifesong Cambodia, she was very shy, reticent to embrace responsibility, and unable to speak much Thai. Not only is Amy now thriving as a student leader, but she is also growing academically and spiritually to the point of now serving as a translator during evening worship services for many Cambodian workers who attend to hear Pastor Vino share the Gospel in Thai.
As Amy's increased sense of responsibility and confidence continues to grow, so too does her desire to be a positive influence on her family. Her efforts–fueled by grace and strength from God–are bearing fruit in her siblings, Eva and Wattana, both of whom are dedicated helpers in the newly formed Shepherds program (which pairs young children with even younger children who have recently joined the program).
God's goodness and kindness is evident, and we believe He has big plans for Amy's future.
Update: Chris
16-year-old Chris is one of the best young chefs in our program. He is also steadily growing into a strong leader in other areas. As the song leader for daily worship in the church, Chris is now taking a leadership role with worship during the weekly services held at a nearby construction site for Cambodian migrant workers..
God is working mightily among this migrant community and in Chris's own family. Many are choosing to follow Christ as Chris boldly testifies what the Lord has done in his life. Last month, Chris's aunt and uncle were the latest members of his family to profess faith in Jesus!

.
Thank you for praying for the children and the student leaders–including Chris, Amy, and Joseph–as they share the love of Christ with their community. God is answering your prayers in exciting ways.
Opportunity: Joseph, the third student leader, still needs a sponsor. Can you help?
This is the LORD's doing; it is marvelous in our eyes.
–Psalm 118:23
Sponsor Joseph and give him a hope-filled future.

[wc_posts author="" author_name="" p="" post__in="" order="DESC" orderby="date" post_status="publish" post_type="post" posts_per_page="3″ taxonomy="post_tag" field="slug" terms="orphancare" title="yes" meta_all="yes" meta_author="no" meta_date="no" date_format="M j, Y" meta_comments="yes" thumbnail="yes" content="yes" paging="no" size="wccarousel" filtering="yes" columns="3″ gutter_space="20″ heading_type="h4″ layout="grid" template="box" excerpt_length="15″][/wc_posts]
Save
Save