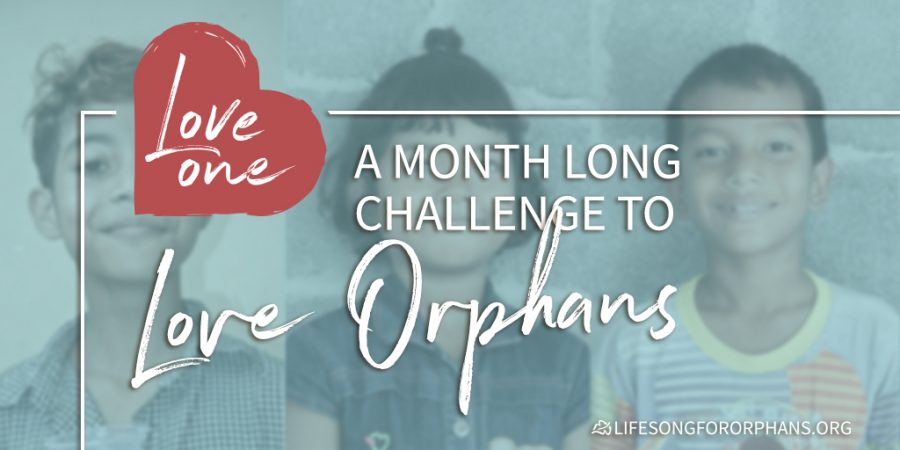 February is the month for love. And since love is action, we have an idea. (We need YOUR help!)
With the number of orphans worldwide totaling in the millions, it's hard to imagine that any one person could make a dent in the need. But here's the truth: If each of us committed to love one child in need, the impact would be enormous.
"Do for one what you wish you could do for everyone."
–Andy Stanley
The good news? It's easier to change a life than you might think. For instance, every child sponsored through Lifesong receives food, clothing, medical care, and shelter. Additionally, each child is known and loved by teachers and mentors who provide strong Christian training and a quality education to break the cycle of poverty while being cared for in a safe and nurturing environment.
For an orphan overseas, this commitment can be the difference between life and death, bondage or freedom. And–for $34 or $68 monthly–YOU have the power to make this happen.
Introducing #LoveOne
Goal: We invite you to show the love of Christ to one child in February by starting a sponsorship.
Meet one new child every day on our Facebook page who desperately needs to be sponsored. See the 4 kids in the photo above? Each of these children still need to be sponsored. Ly is 11 and in the second grade. Taengo is 9 and is from Thailand. Eng is a teenager (whose favorite subject is literature!), and Chim-Mindo is 8 and loves playing the drums!
Find your sponsor child today. You have the ability to choose and the power to impact.
We look forward to introducing you to 28 incredible kids, and we look forward (in faith) to celebrating 28 lives changed for good by the love of people like you.
Experience the joy of changing a child's life today.
Our pledge
100% of sponsorships received by Lifesong for Orphans goes directly to caring for orphans and vulnerable children. We've been blessed with partners that underwrite all U.S. administrative and fundraising costs (TMG Foundation and other partners), meaning your sponsorship goes where you intend it to–to the child you love.
Questions? No problem. You can check out the sponsorship page HERE.
Related Posts
[wc_posts author="" author_name="" p="" post__in="" order="DESC" orderby="date" post_status="publish" post_type="post" posts_per_page="3″ taxonomy="post_tag" field="slug" terms="adoption" title="yes" meta_all="yes" meta_author="no" meta_date="no" date_format="M j, Y" meta_comments="yes" thumbnail="yes" content="yes" paging="no" size="wccarousel" filtering="yes" columns="3″ gutter_space="20″ heading_type="h4″ layout="grid" template="box" excerpt_length="15″][/wc_posts]
Save