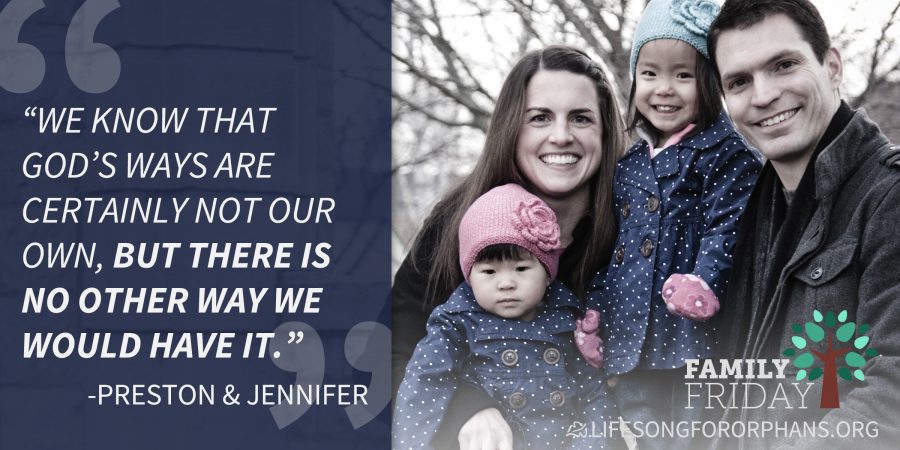 "For my thoughts are not your thoughts, neither are your ways my ways," declares the Lord.
 "As the heavens are higher than the earth, so are my ways higher than your ways and my thoughts than your thoughts." Isaiah 55:8-9

Never in a million years would we have imagined we'd be back on the paperwork trail planning to head back to China six months after completing our first adoption, but it was happening. Never in a million years would we have imagined ourselves the parents of two beautiful girls who will be amputees. This was certainly not what we had planned our life to look like, but apparently God had other plans (and they are pretty amazing!)…

On Tuesday, February 4th, 2014 we were glancing through our adoption agency's most recent report from the China team. Included in this report were some children listed for the first time by our agency and tagged as "Special Focus." This list of precious Special Focus children consists of those who are more difficult to place in families because of any number of reasons: often they are older, have more significant physical or cognitive needs, or a perhaps a combination of the above.

Well, one particular child caught our eye: a 13-month old baby girl who was labeled as having a "long bone deformity." Of course, she's beautiful, but we were drawn to the fact that she (like our first daughter Anna) has an orthopedic condition involving her legs. We clicked on her picture to learn more and started to read out loud at this point, "The child is extroverted, active, likes listening to music, likes being cuddled, will cry loudly when she is unhappy and will stop crying at once when held up by someone, can respond actively to stimulation of new things or strangers, and can accept the food she never tried before." This sounded strikingly similar to how we would describe Anna (well, except for the food thing…). Then, we discovered that Anna and this baby share the same birthday, this child being exactly one year younger.

There's no way we would even be considered in her adoption, we decided. After all, we've only been home with Anna for less than 7 months. BUT, it couldn't hurt to at least ask, could it? So we did.

Much to our surprise, we learned a few days later that we COULD, in fact, be considered as prospective parents for this sweet girl. We were shocked. Our social workers explained that we had about one week to decide if we were serious about this child. One. Week.

It's difficult to describe the next week of our lives and the decision we faced. This was not in our plans. This child has SIGNIFICANT needs (she is missing both tibia bones and will likely be a double amputee). Her hopes of walking are slim to none unless she gets here to the U.S., has the amputations, and is fitted with prostheses. How would we manage two children under the age of three? We were still getting used to being parents to Anna. Will people think we are completely crazy? What about Jennifer's plan to go back to work in the fall? Was Anna ready for this? Were WE ready for this?

As we wrestled with these questions. We talked, prayed, and asked God to make the answer clear to us. Over just a couple of days, God answered that plea. We were struck by the fact that many of our hesitancies stemmed from selfish reasons, when this really wasn't about us. We talked with each other, we talked with our families, we talked with Anna's doctors and prosthetists. We realized that though this precious child has significant needs, we have the local resources and support very much in place already, thanks to our experiences with Anna so far. This doesn't mean things will be easy, but how amazing that we are going down this road of leg braces, amputations, and prosthetics with Anna.

One week after we first saw her picture, we told our adoption agency YES. It wasn't quite final yet, though. There were five other families who also wanted to be considered for this child. Our agency took the next 36 hours to talk, pray, and fast about their decision regarding how to place this child. We got the phone call on Friday, February 14th: She is ours. It sounds crazy to say this, but we already knew. We knew before we got that call that she belonged to us, and we belonged to her.

Things seemed to fall into place quickly and we received confirmation after confirmation that this little girl was always meant to be ours. Thanks to a second Both Hands project through Lifesong for Orphans, our adoption was fully funded.

Fast forward eight months…we finally left for China on October 22, 2014 to bring little Ivy Dongxiu home. It seemed like longer than eight months that we had waited for her, though the paperwork process had gone smoothly overall.

Ivy officially became part of our family on October 27 and we arrived back in the United States on November 5th, 2014. Has the transition home been easy? No. Has our two-year-old Anna fully acclimated to having to share her toys and our attention? Not even close. Do we have any regrets about pursuing this adoption of Ivy Dongxiu? No way. We know we have a long road ahead of us with both Anna and Ivy but we are sure that God has chosen us to love them and we are so grateful for that responsibility and privilege. We know that God's ways are certainly not our own, but there is no other way we would have it.

 –Preston & Jennifer, adoptive parents & Both Hands family 
Wow, thanks so much for sharing the journey that God has brought you on, Preston & Jennifer! Prayers for you and your growing family as you face the future, knowing God will be with you every step of the way!
Feel encouraged by this post? Leave a comment to this family to show your support!
Interested in learning more about Adoption Funding? Click here to learn more.