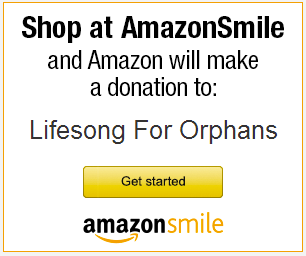 It's that time of year! With Thanksgiving getting approaching, I can't help but start to think of Christmas (go ahead and scoff at me if you're one of those "not until AFTER thanksgiving folks")!
This year I invite you to rethink Christmas — and that doesn't mean neglecting to give gifts. What it does mean is giving in a way that means something…to give in a way that has PURPOSE. Here are just a few ideas to think about as the Christmas and giving season gets ushered in this week.
4 Gifts under $75
For more gifts of purpose, view our online Gifts of Purpose Catalog>>
Maximize your giving
Lifesong has been blessed with a partner that underwrites all US administrative and fundraising costs (TMG Foundation and other partners).  That means 100% of your donation received by Lifesong will go directly to the need…helping orphans.
Along with the our 100% pledge, join Lifesong for Orphans in giving a Gift of Purpose and your gift will be MATCHED up to $300,000 until December 31st! A gift that will show Jesus, the reason of the season, to a child in need.
Give a gift in honor of a loved one
Give differently this year. Honor someone you love by giving a Gift of Purpose in their name. We will send you a card with a description of the gift for you to present to your loved one (OR you can download your own printable card — not personalized). See gifts to give here.
Gifts that give PURPOSE
Check out Lifesong's online store for gifts to give to family and friends. 100% of net profits go directly to the need…helping orphans.
Shopping Online?
Do most of your Christmas shopping online? Want to make a difference when buying this year's Christmas gifts? Check out Amazon Smile. It's easy — you shop, Amazon gives! All you have to do is click on the link and shop away! Amazon will give a portion of your purchase to Lifesong. Let the buying begin!