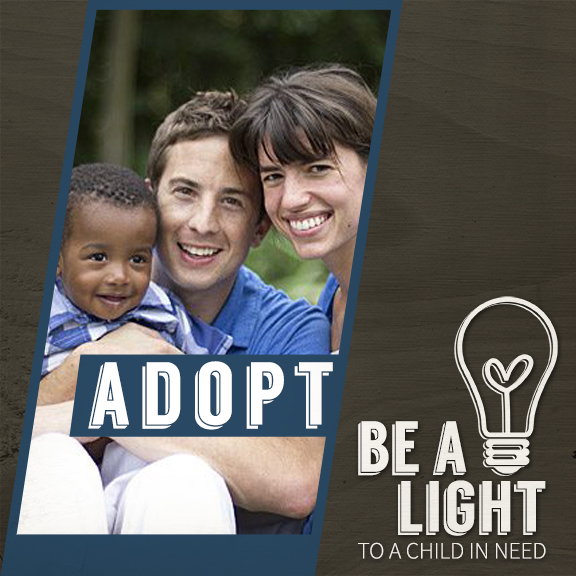 "Father to the fatherless, defender of widows—this is God, whose dwelling is holy"

Psalm 68:5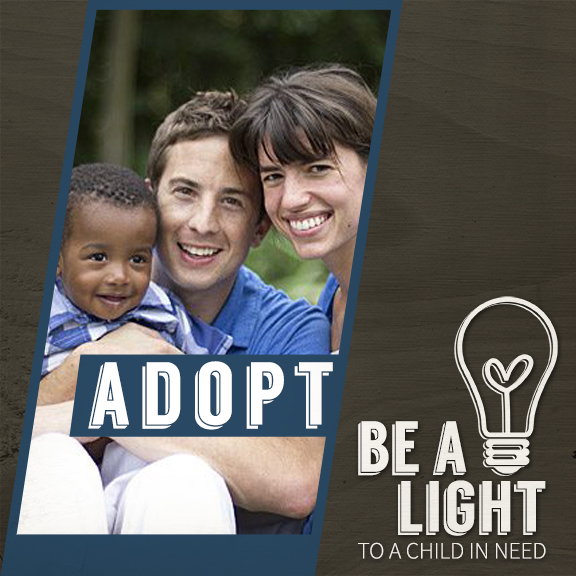 We are already at post #4 of our summer blog series, "5 Ways You can be a Light to a Child in Need" (If you missed the previous post on mentorship, check it out here). I hope you have enjoyed the journey so far! Today we are going to discuss the popular topic of adoption.
I've heard it said recently that adoption is just a "new fad" or "the trendy thing to do" and "will eventually fade". I do agree that we have seen a shift of the global Church in caring for orphans, but I like to think of it as a movement that God Himself is breathing into. 
I also think it's hard to talk of the physical act of adoption without thinking about spiritual adoption that is offered to anyone who is in Christ (thankfully this isn't a new fad, but has been offered since Jesus paid the price for our adoption). The fact that the Creator of the world and the Savior of our souls desires you and me to be a part of His royal family is a miracle! 
Even before he made the world, God loved us and chose us in Christ to be holy and without fault in his eyes. God decided in advance to adopt us into his own family by bringing us to himself through Jesus Christ. This is what he wanted to do, and it gave him great pleasure. So we praise God for the glorious grace he has poured out on us who belong to his dear Son. –Ephesians 1:4-6
In that same spirit, God calls us to follow Him in His character by being fathers and mothers to children in need — and sometimes that is through bringing a child into our families permanently through adoption.  You may be thinking…
We don't feel called to adopt.
If you seek the Father's heart and adopting a child is not God's plan for you, that's ok, God does not call everyone to adopt. But, you can still join in on God's picture of adoption. Think of ways that you can support adoptive families: start a church adoption fund, help an adoptive family fundraise, provide respite care and support, or become part of a post-adoption support team — the options are endless!

We would love to adopt, but we can't swing it financially.
This is probably the #1 reason why families decide not to adopt. If God has called you to adopt, He will help you make it happen! Do your homework; there are many opportunities for adoption financial aid and books about creative fundraising ideas. It can be a lot of hard work and will require sacrifice, but if you are following the path He asked you to walk, He will give you the right feet. Here are just a few resources regarding financial aid:
We know it's God will for us adopt, but we don't know where to start!
My dad always said, "To start is to be half-finished." How true…sometimes taking that first step in the right direction makes all the difference. If God has called you to adopt a child and you don't know where to start — whether figuring out where to get a homestudy, finding an agency, deciding between international and domestic adoption and the hundred other decisions, we encourage you to talk to our friends at Loving Shepherd Ministries. At no cost, they walk with families through the initial steps of adoption, helping families understand the process and seeing their options. Visit their website here. 
We've adopted…now what?
There is often such a focus on the initial parts of adoption: paperwork, fundraising, and getting the child H-O-M-E that often times we neglect the needs of post-adoption care. Families need support, encouragement, and sometimes professional advice as the walk the transitional storms that can ensue. Start an adoption support group to help encourage and learn from each other. Also, take advantage of these post-adoption resources:
iCareAboutOrphans.org — Ministry of Focus on the Family offering Free Post Adoption Phone Line, FREE service for adoptive families! The phone number is 800-A-FAMILY (232-6459) and is staffed Mon – Fri from 8am – 10pm EST by counselors who have been trained by Dr. Karyn Purvis.
Empowered to Connect — Materials designed to help adoptive and foster parents better understand how to connect with "children from hard places" in order to help them heal and become all that God desires for them to be.
Today, would you share your thoughts and your heart on the topic of adoption?
Don't miss the GIVEAWAY!
At the end of this 5-part series, we will be giving away a prize package that includes:
Lifesong T-shirt*
Zambian-made Messenger Bag
Zambian-made Beaded Necklace 
Be sure to follow along & comment throughout to increase your chances of winning!
(1 comment/post, 5 maximum entries)
*your choice of available shirt found online at the Lifesong store