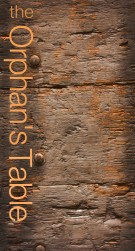 Experiences impact us more deeply than words.
On Orphan Sunday, share a meal eaten by orphans around the world. Gather with family, small group or church for the meal, discussion and prayer.
When you request The Orphan's Table, you will be sent:
–An easy-to-cook meal package—the same food provided to feed orphans worldwide. (Prepare by boiling, instructions included.)
–An Orphan Sunday Prayer and Discussion Guide to help you make the most of this experience.
As you join in The Orphan's Table, we pray God's love for the fatherless will grow in your heart as well.
The cost is simply a donation of any amount. $5.00 will cover materials shipping for 1 food packet. Please indicate the number of food packet needed as each packet contains 6 meal servings.
We're extending "The Orphan's Table" internationally! If you live outside the U.S. and would like to participate in the Orphan's Table for Orphan Sunday please email us at info@cafo.org for more information. You will be asked to cover shipping costs, but the meals and materials will be provided free.
PLEASE NOTE: the first shipment of Orphan's Table packages will not be sent until approximately Tuesday, September 11, 2012. After that date, they will be shipped approximately bi-weekly. Place your order by Friday, October 12 to ensure the arrival of your meal in time for Orphan Sunday on November 4!
(**information taken from www.orphansunday.org)