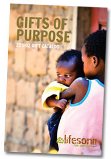 I am SO excited to tell you about this SPECIAL opportunity to give to a teacher in your life. Aren't they hard to buy for? BE SURE TO KEEP READING… YOUR GIFT WILL BE DOUBLED!!!!
Are you searching for the perfect gift for the teachers in your life?  How about skipping the routine coffee mug or picture frame and make a donation to the Lifesong Schools in Ethiopia instead?  Teachers are guaranteed to love that you made such a thoughtful donation in their honor.
If you donate at least $10 in honor of your teacher, the Adami Tulu Team send you the card pictured to the left and below for you to give to your teacher. Isn't is gorgeous? I would LOVE to receive this as a gift during this season of GIVING!
"Several former teachers have told me that they would have loved to receive a gift like this. And, as a former teacher myself, I agree with them. Teachers get bombarded with coffee mugs, candy, and teacher do-dads at Christmastime. This year, give your teacher something truly meaningful instead; spread his or her love for education around the world." – Mary Beth Picker, Orphan Advocate
OK, now for the AMAZING part! As of last night, we have a generous donor that has stepped up to MATCH all donations to the Ziway and Adami Tulu Schools between now and December 31st… up to $130,000!!!!!! Can you tell I'm excited? What a GENEROUS way to make the most of your giving and bless the children and families in these communities! Let me tell you first hand, these schools NEED to be expanded… these children NEED an education… they NEED to be fed each day… they NEED to hear about Jesus! Lets give HOPE to these precious children in Ethiopia!
Would you join us in prayer as we seek to make the need known?
***If you are giving a gift for a teacher and would like one of the cards mentioned above, As you donate, leave a note in the "Special Instructions" box telling us how many cards you would like.
I'm so incredibly thankful to these generous folks for their commitment to these kids in Ethiopia. For their belief in our shared vision of ending the global orphan crisis by keeping families together, breaking the cycle of poverty, and building self-sufficiency.

So I don't know about you, but I'm incredibly enthused, excited and energized about this movement to change the world. I hope you'll join us in acting today to maximize the impact of this generosity." – Aaron Klein, Orphan Advocate